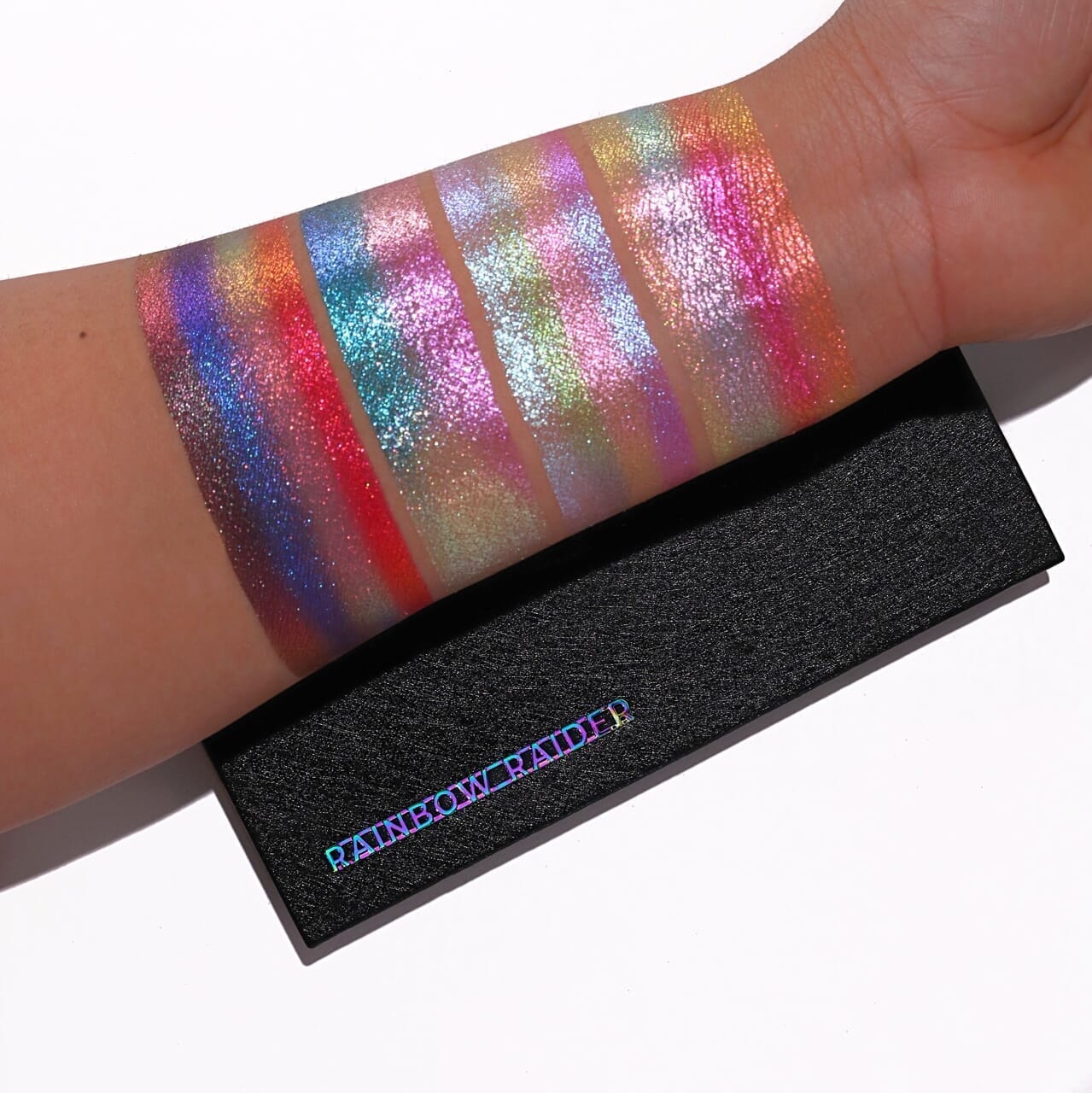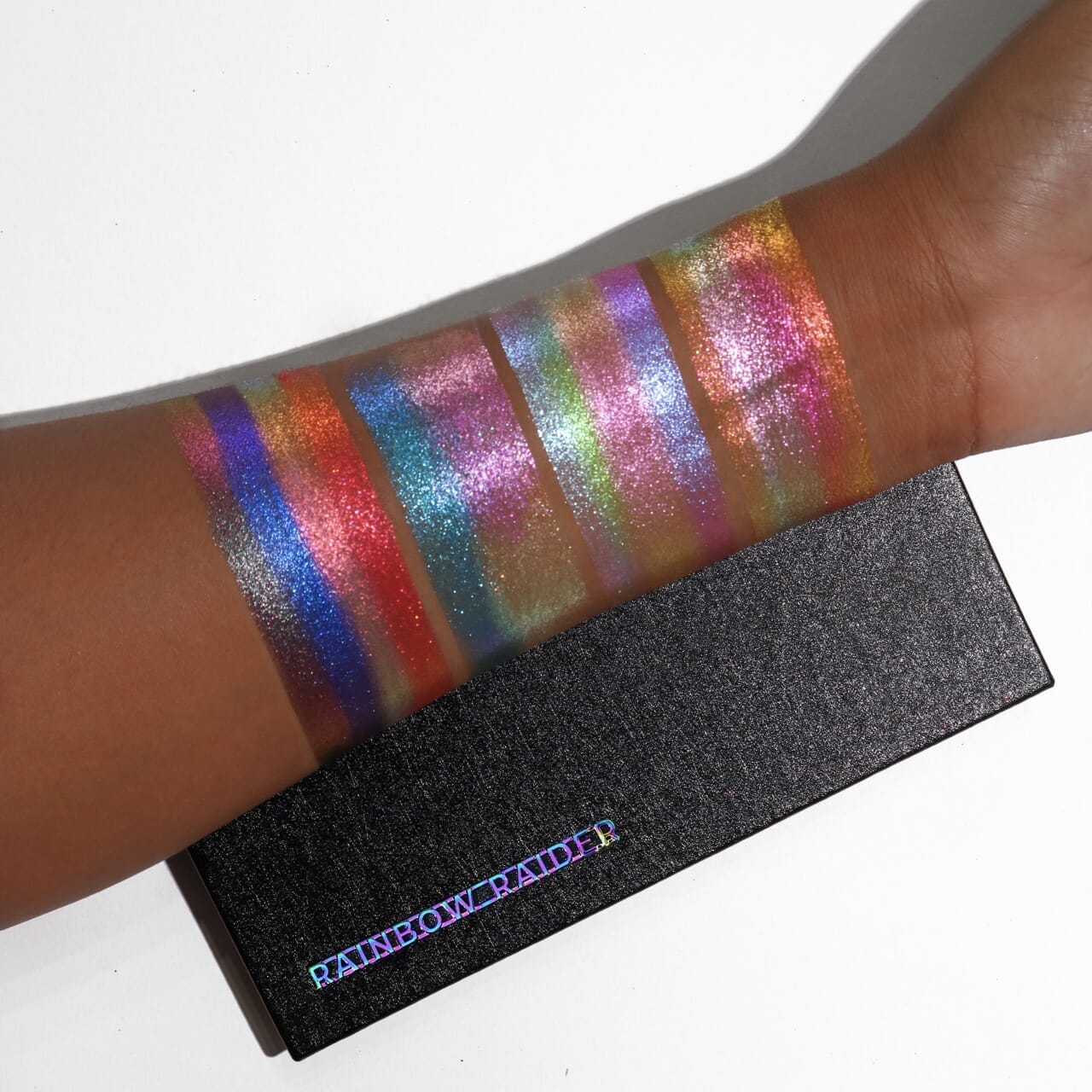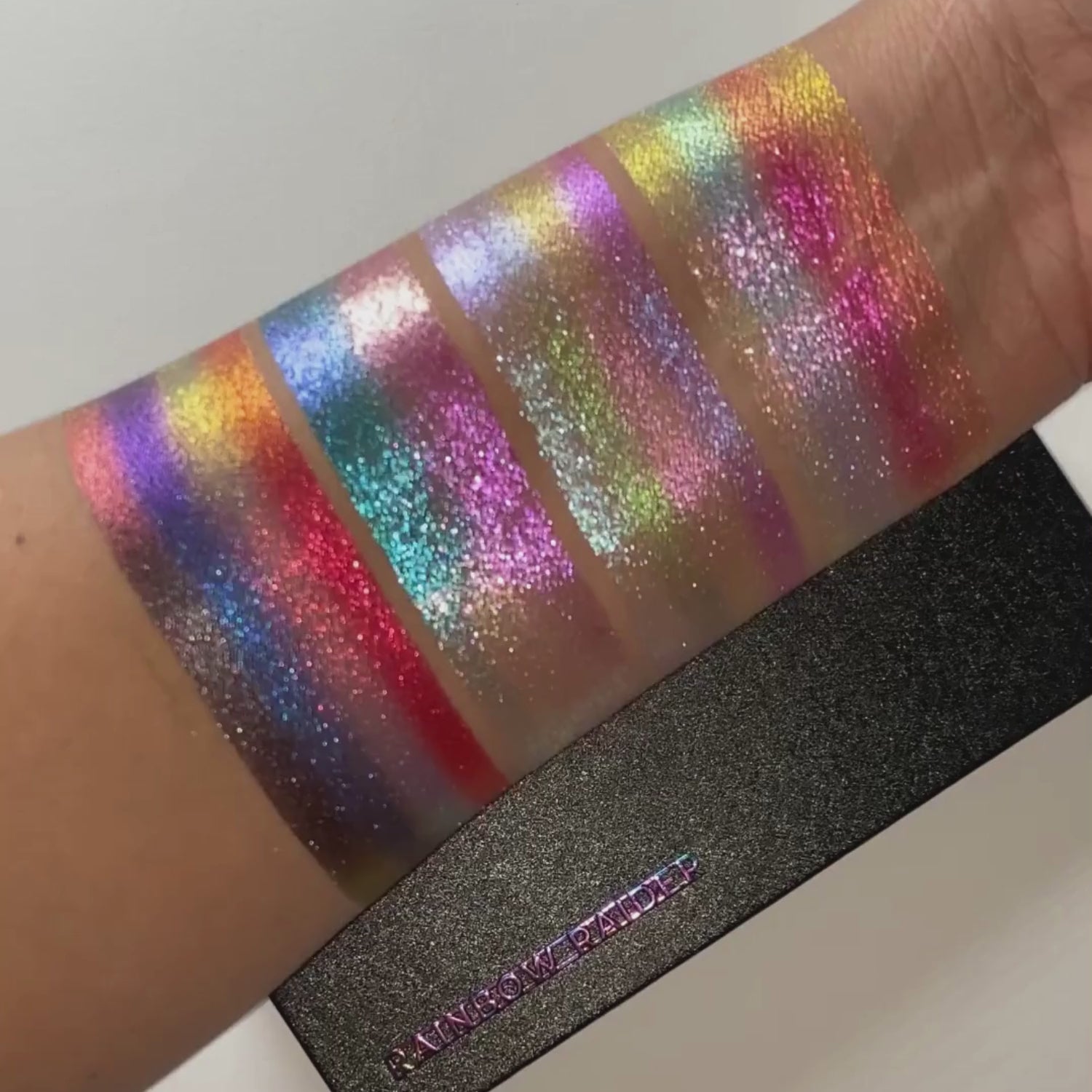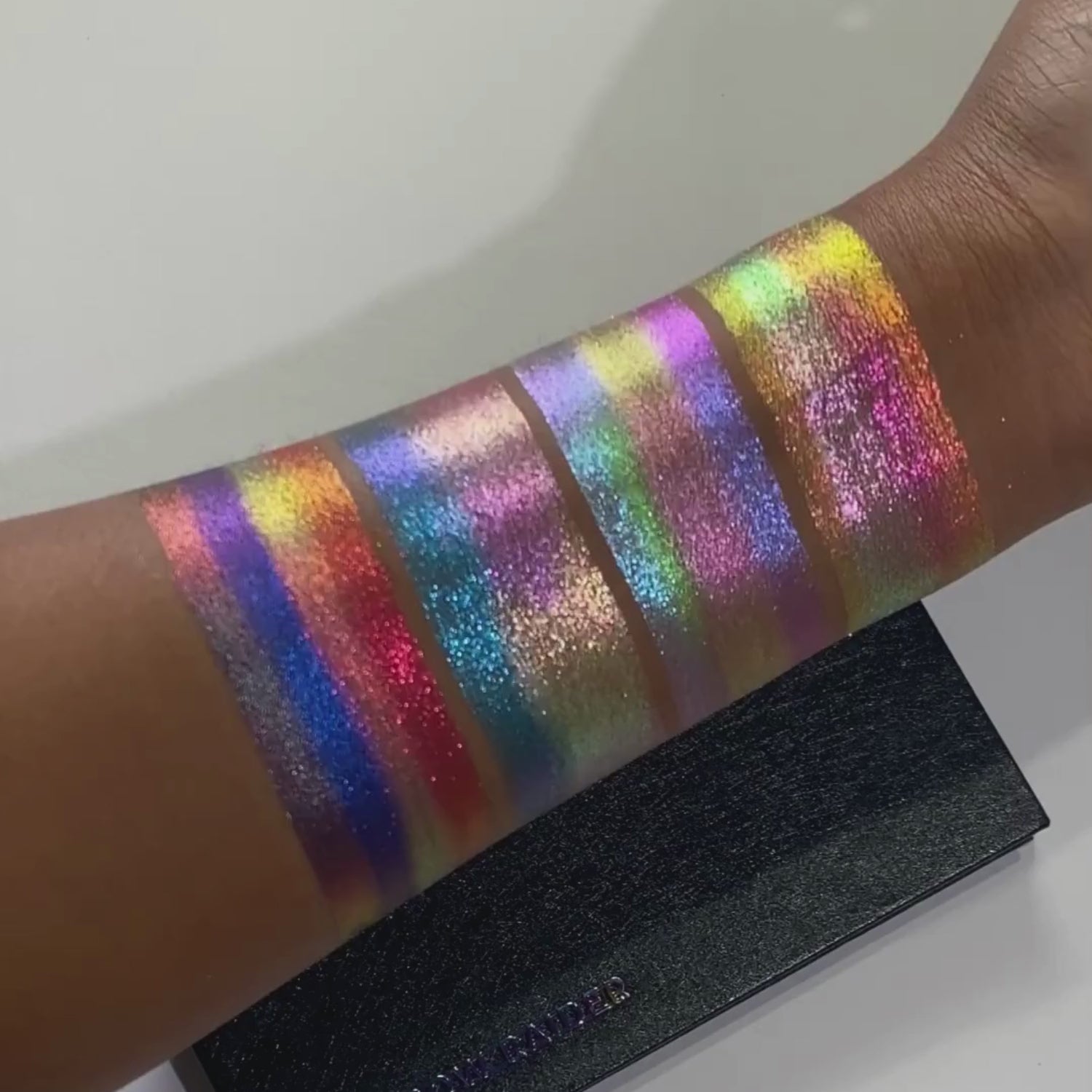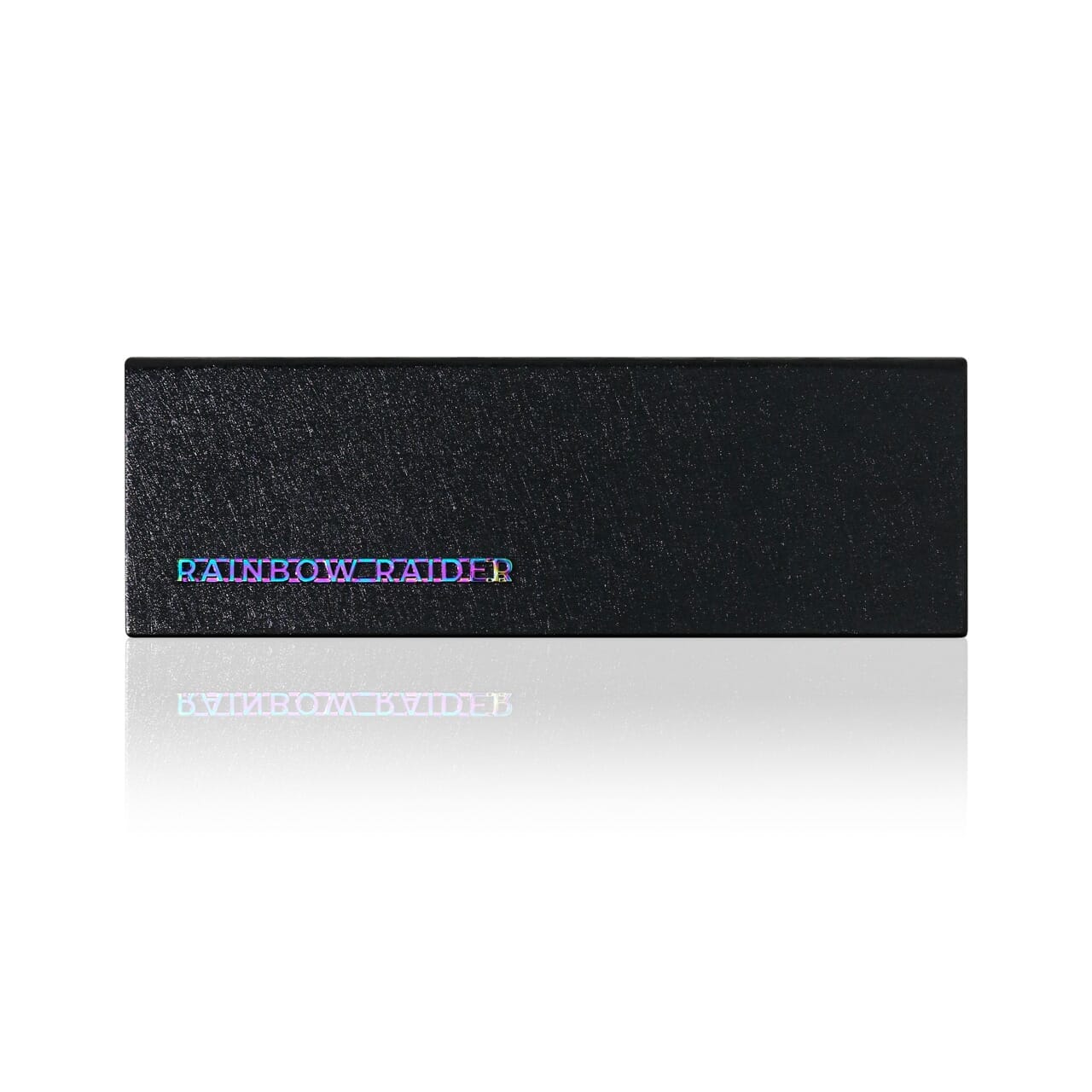 Rainbow Raider Multi Use Palette (Limited Edition)
Sale price

$68.00 USD
Regular price

$68.00 USD
(/)



Another FUGLY palette, designed for the face, but safe for eye use and inspired by The Flash villain, Rainbow Raider.  Featuring four (4) powder iridescent, rainbow highlighters with zero white cast. This palette is 100% free of talc, glitter, oil and BHT. (This palette is also vegan) 
Limited Edition. There are no planned restocks for this palette. 
Sparkle factor > 100% ! 
⚠️Keep your palette in a cool, dry place. The shimmers in this palette are VERY shimmery and will require a good primer to prevent fallout and creasing if you use it on your eyes. Please be aware of this before purchasing.⚠️ 
The colors are hand poured by a small team of 7. As a result, everyone's palette will have slight differences. 
Magnetic palette, with removable, 32mm magnetic pans. Each pan contains approximately 3.8 grams of product.
The outer packaging is made of 30%, 

upcycled

, vegan, faux leather with a plastic frame. (Upcycled materials help divert waste from landfills and reduce the end-user responsibility associated with recyclable or compostable materials. See upcycled tab for more details).  When you open the box, there may be a chemical smell from the packaging. This smell is a UV coat that we used to protect the "leather" and will soon fade. 
Note: variations in color settings, lighting and qualities of phone/tablet/computer screens, etc. may cause colors to appear different in person. Please use our product photos as a reference guide only. 
Please be sure of your purchase as this item is not refundable. Product contains synthetic sapphire (also known as syncrystal sapphire)and diamond powder which may me be an allergen to some. See full ingredient list below.  if you have questions about a product. 

Ingredients 

Mica, Synthetic Sapphire (syncrystal sapphire) Nylon-12, Silica, Dimethicone, Lauroyl Lysine, Polymethylsilsesquioxane, Diamond Powder, Calcium Sodium Borosilicate and Calcium Aluminum Borosilicate Titanium Dioxide, Tin Oxide, Calcium Carbonate, Iron Oxides. Product will expire 12 months after opening. 

Perform a patch test before using a new product. Please discontinue use if signs of irritation or rash appear. Patch testing involves applying a small amount of the product to the skin where you're unlikely to wash it away. Leave the  product on the patch of skin for as long as it would normally be on the skin to see if a reaction develops. Repeat for 7 to 10 days as a reaction may not happen immediately, so it is important to continue applying the product for this length of time. Please discontinue use if signs of irritation or rash appear.


To avoid "shimmer or glitter fallout" and creasing, we suggest using a good eye primer prior to application. 

 

Made and assembled in an SA 8000, ISO 9001, ISO 22716, GMP certified lab located in Hong Kong, China. Mica is ethically sourced from North Carolina, USA. Paraben and preservative free. 




 

 

International & Domestic Shipping

DHL International Shipping = Delivered duties paid within 8 to 20 business days. Time frame for delivery is an estimate time and may vary due to local factors (ex. local mail strikes, short staff, etc). Only available for some countries. *Time frame does not include custom delays which can sometimes take up to 90 days.* Shipping, taxes and duties will be calculated at checkout. International shipments are subject to the import laws of their respective country's customs department. Returned shipments will incur additional shipping charges as well as a $15.00 restock fee. This will be charged to your form of payment made at checkout. Read our full policy here. 


Domestic Shipping:  If your order is shipping to an address within the USA and totals $200.00 or more, a signature may be required for delivery. Any order shipping to DE or OR, will also require a signature for delivery. If you don't have anyone available to sign, please send us an email within 24 hours of placing your order and we will change it to normal delivery. Any orders returned due to the unavailability to sign will incur a $15.00 restocking fee. Over 95% of orders are shipped Priority Mail via USPS or ground shipping by UPS. 

International and Domestic: Return to sender due to inaccurate address entry at checkout, or recipient unavailable to sign, will incur a $15.00 restocking fee.
Return & Cancellation Policy

Cancellations: excepted within 24 hours of placing your order. We are unable to change or add anything to your order.  If you need to cancel after 24 hours, there is $6.00 charge. This includes preorders. We are unable to cancel an order if your order shipped. Please make sure that your order is accurate. Once the order is placed, we're unable to change it. 

Cosmetics: We do not accept returns on any cosmetic/makeup item due to the nature of the product. All sales on eyeshadow and cosmetics are final once received. We do not refund, return or replace products based on liking. Please buy responsibly.⚠️Allergies Advisement: please read the ingredients list carefully to assure the item you are buying does not contain any ingredients you know you're allergic to. We do not offer refunds on cosmetics and all sales on cosmetic items are final.⚠️

Empty Magnetic Palettes: can be returned new or used within 10 days of your confirmed delivery date. You must return the original product box and packaging to receive your refund. Shipping on your original order is non-refundable. 

Shipping Protection: If you took advantage of shipping protection at checkout and need to utilize the service, please contact us to file a claim. Shipping Protection is not refundable. See shipping protection terms of service  for more details. 
What Is Upcycling?

Upcycling means creating something new from discarded materials by repairing, refurbishing, or repurposing them. This process is done by machine and by hand and therefore there may be slight "flaws" in the packaging that cannot be avoided during the making process. Please be aware of this before purchasing. 

Though we can't do this with all of our products, we try and upcycle most of our products. Our foam is corn based and biodegradable over time. Over 40% of our mirrors are refurbished. Once an item has been upcycled, it cannot be recycled because plastics can only be recycled once or twice before they can no longer be of use. Note: When you open the box/palette, there may be a chemical smell from the packaging. This smell is a UV coat that we used to protect the palette as well as the foam and will fade over time.  It is a necessary part of making an uncycled product "look pretty".

Upcycling has no effect on the eyeshadow formula itself. All shades are removable and magnetic and can be stored in most magnetic palettes. Please visit our FAQ section for further information.
Affiliate/Promo Codes

 

Use any of these codes to save 10% on your purchase. 

Note:  some eyeshadow bundles are not eligible for discounts. 

ANGESCHKA · ANITA · 

AMYLOVES  

BEAUTYCULT · BNBLAUREN10 · BRITTANYRAE · CORALIEROSE

DEBUTAWN · EARTH · ELEASE · FANCYFACE

HEATHER · HOTMESS · JAMILA · JULIA

KARA · 

KHMAKEUP · 

LEAHJANAE

MAYA · 

MELINA · MILLY · 

PATTY10 

RADAR10 ·  SINI · SMITHYSONY · STEFF · YADI

 

 

 

 

 

 
Rainbow Raider Multi Use Palette (Limited Edition)
Sale price

$68.00 USD
Regular price

$68.00 USD
Choose options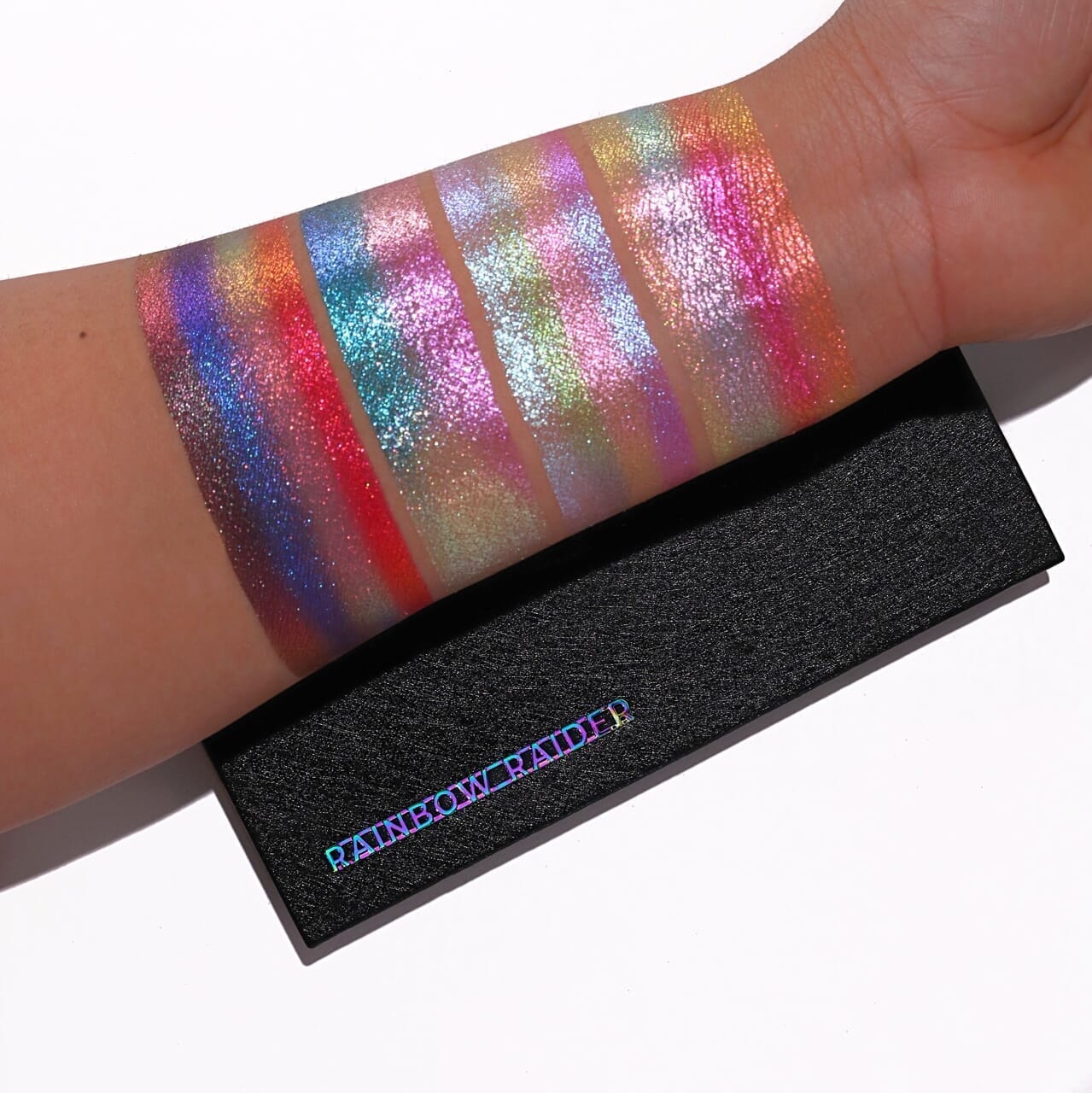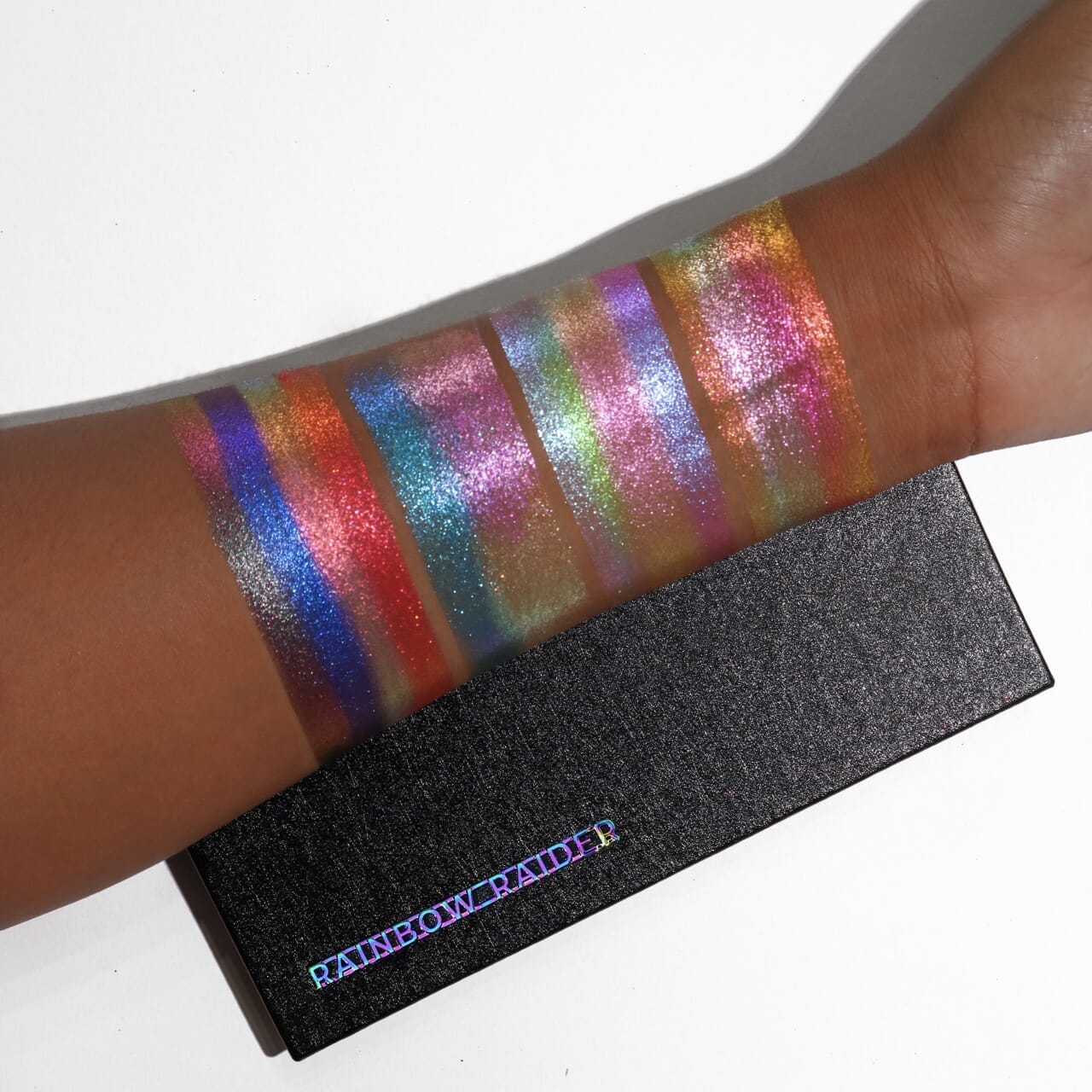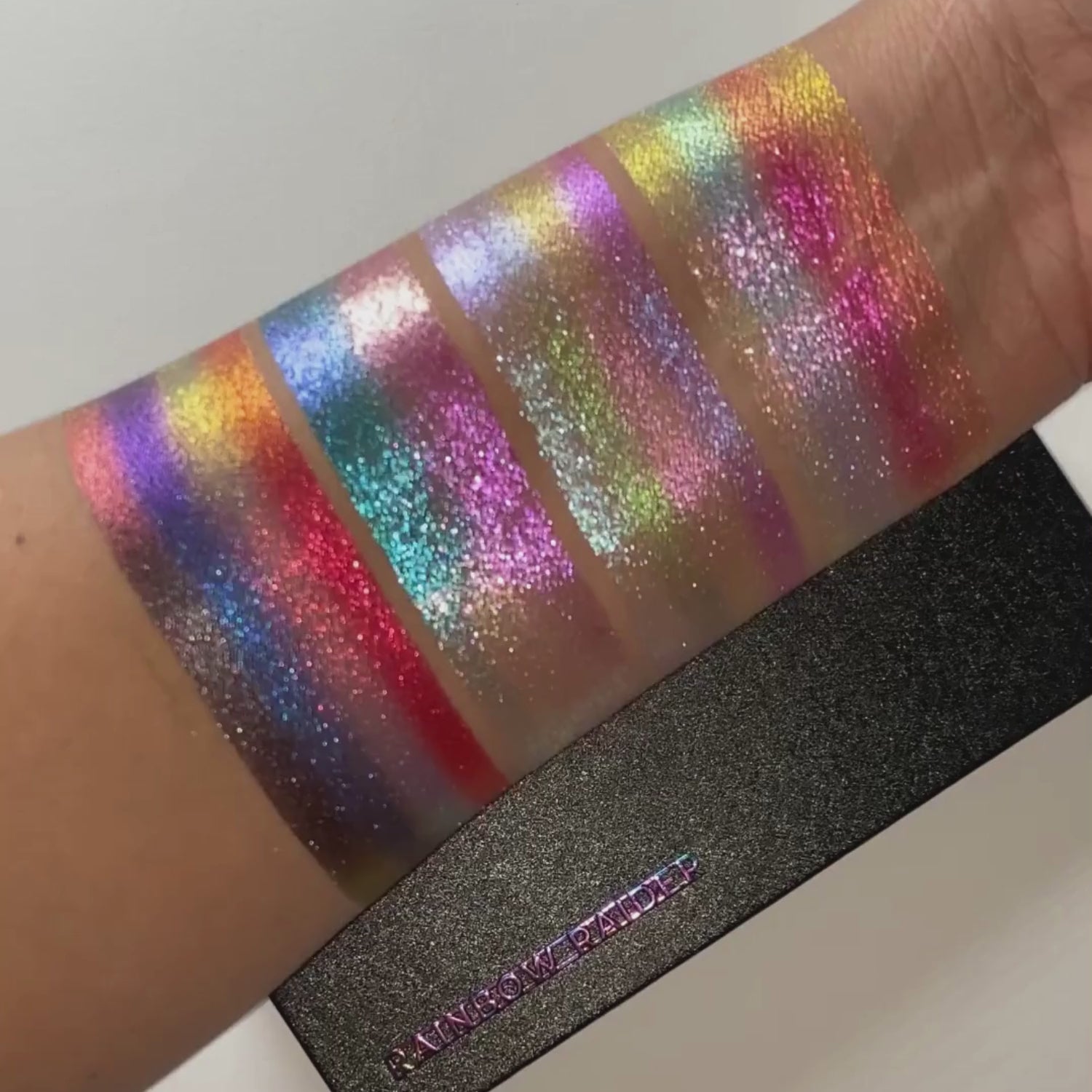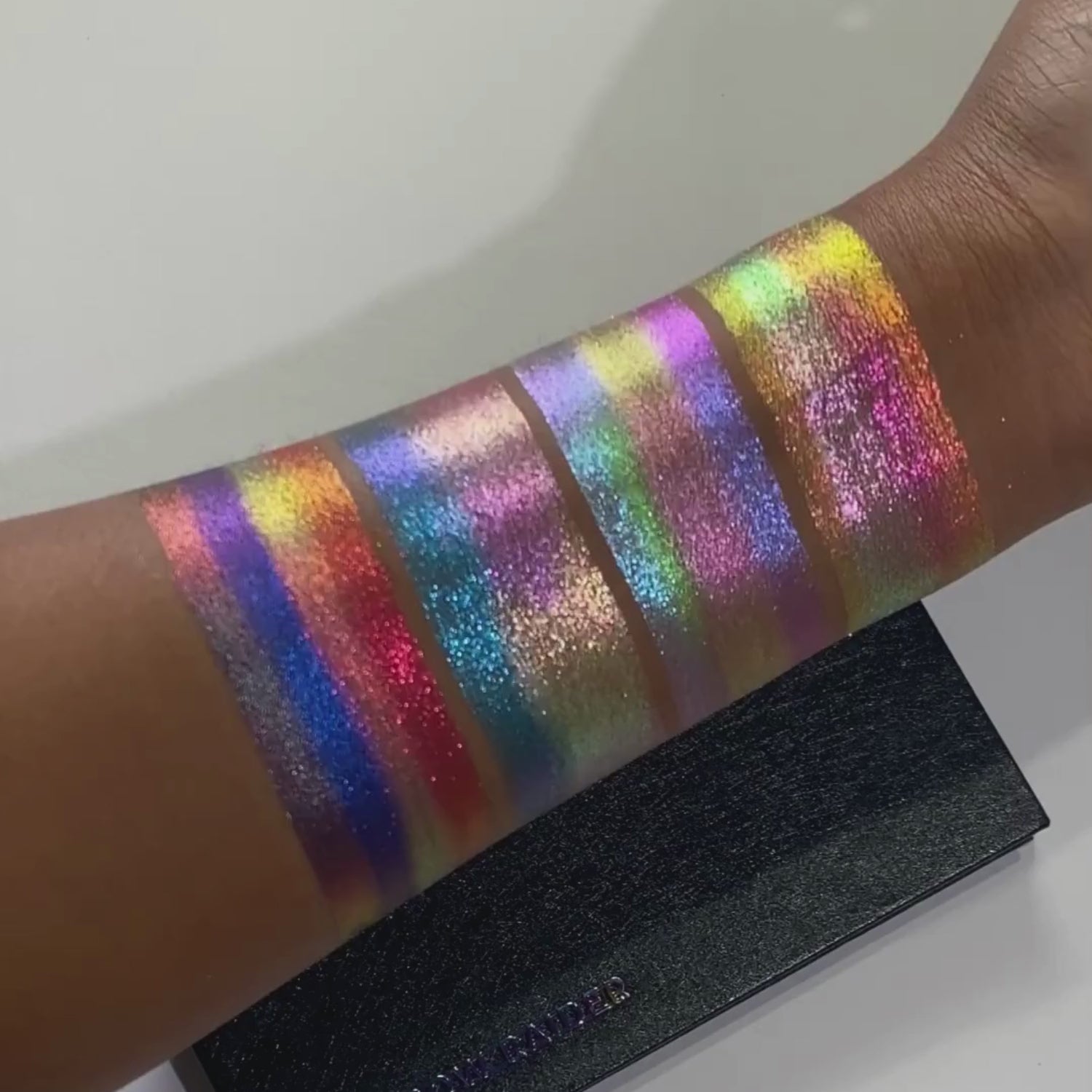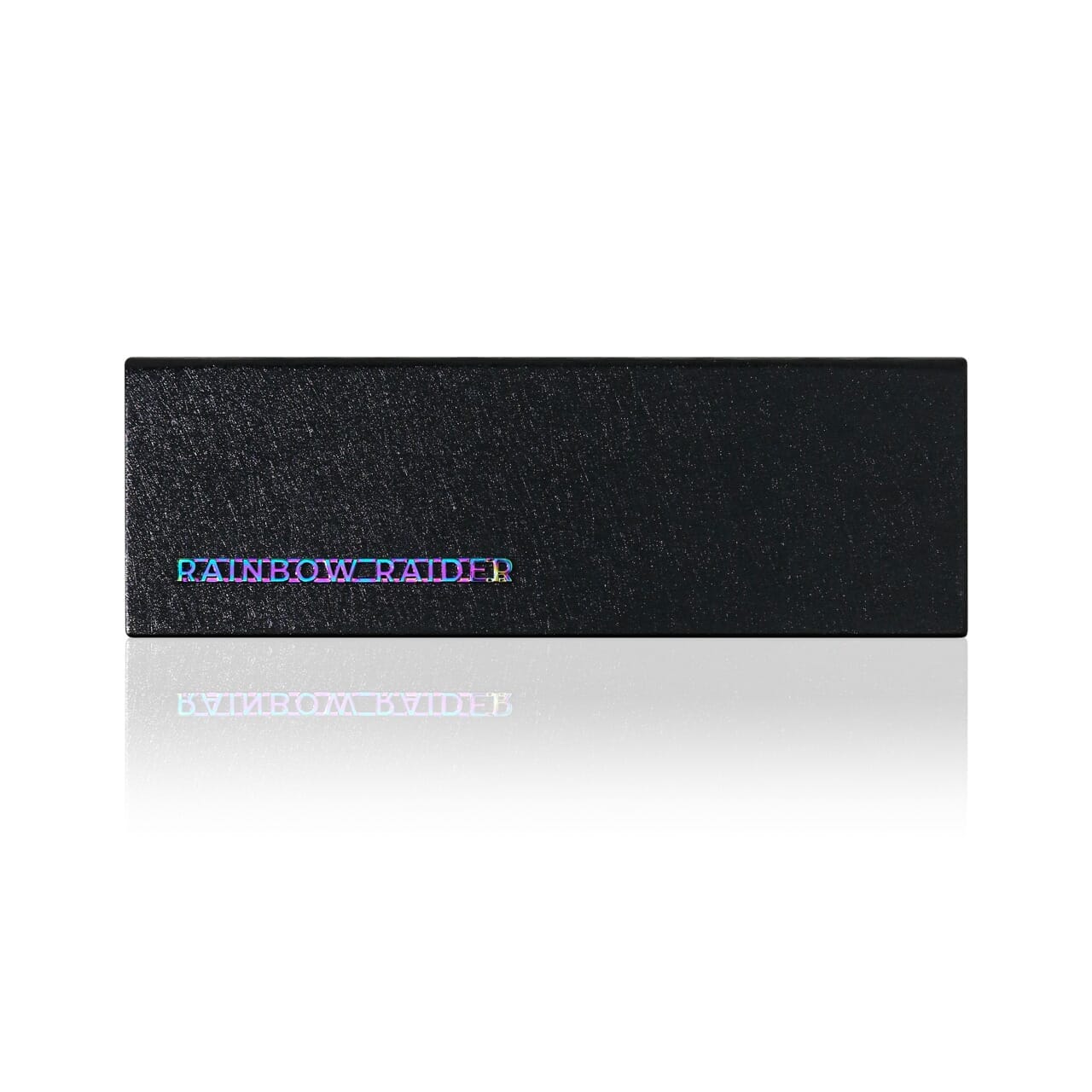 Sale price

$68.00 USD
Regular price

$68.00 USD
(/)
View details